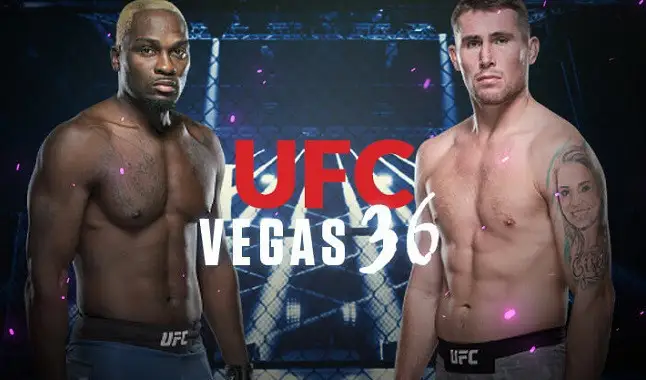 Complete card, information and betting tips from UFC Vegas 36.
The month of September starts with MMA in action, and this Saturday (4th) we will have UFC Vegas 36, at UFC Apex, in the city of Las Vegas. The main clash of this edition will be between the American Derek Brunson and the English Darren Till, in the middleweight category. Brazil, in turn, will have only one representative overnight, it's Luigi Vendramini, fighting in the lightweight division. Tips on these and other fights you can check out in this article.

Brunson vs Till
Here we are sure of a great fight, as they are two great fighters of today. Both are well placed in the category ranking and a victory represents a lot in the intention to fight for the belt in the future.
Darren Till
, curiously, did a good part of his early career in Brazil, and his specialty is Muay thai. He also has good wrestling experience, and is a very aggressive fighter, applying powerful kicks. Today he can be considered a more complete athlete and ready for great challenges.
The American
Derek Brunson
has been keeping an interesting unbeaten record, and he is also a fighter we can classify as aggressive in his punches and strategy. No wonder he has already defeated some rivals with few blows and accumulates more than 10 victories by knockout. It will be interesting the confrontation with Till, but we believe that the rival will arrive with more resources for this confrontation.
Bet: Darren Till Wins by KO, TKO, DISC OR Submission | @2.10 on Bet365
Vendramini vs Pimblet
Luigi Vendramini
is slowly returning to the fighting world, after a serious injury that took him out of action for almost 2 years. On his return he was not very lucky and ended up being defeated, and now he is going to make a new attempt to establish himself in the organization. We cannot forget that his beginning was extremely promising and soon attracted attention in the UFC, participating in Dana White events. He is a fighter who prioritizes jiu-jitsu, but also manages to vary his style in the octagon.
Paddy Pimblett
is making his UFC debut, after making his name very positively in smaller, but technically demanding events. He has plenty of qualities and resources to become a great athlete, but a debut is never easy. He comes from a streak of victories by knockout and submission and arrives much more prepared and packed than the Brazilian. This can be decisive for his triumph.
Bet: Paddy Pimblett Wins by KO, TKO, DISC OR Submission | @2.50 on Bet365
Morono vs Zawada
Alex Morono
, or "The Great White", already has an interesting history in MMA, and for over 10 years he participates in high level competitions. He arrives confident for this fight, as in addition to having won a great victory in the previous fight, he was also crowned the performance of the night. He's a black belt in jiu-jitsu and taekwondo, but he's not limited only to this way of fighting, he can be described as a very adaptable athlete with what the confrontation requires.
On the other side we have the German
David Zawada
. Before joining the UFC, his match history and phase were very commendable. But the level of demand of the biggest competition in the world is much higher, and he has been struggling to adapt. Still, he hasn't forgotten how to fight, and has a great knockout, which gives him motivation to make a match.
Bet: Alex Morono wins | @1.72 on Bet365
Main Card
Middleweight
: Derek Brunson vs. Darren Till
Heavyweight
: Tom Aspinall vs. Sergey Spivac
Welterweight
: Alex Morono vs. David Zawada
Light heavyweight
: Modest Bukauskas vs. Khalil Rountree
Lightweight
: Paddy Pimblett vs. Luigi Vendramini
Preliminary Card
Flyweight
: Molly McCann vs. Ji Yeon Kim
Bantamweight
: Jack Shore vs Liudvik Sholinian
Julian Erosa vs Charles Jourdain
Middleweight
: Dalcha Lungiambula vs Marc-Andre Barriault
Bantamweight
: Jonathan Martinez vs. Marcelo Rojo
Bet on UFC fights through the best online bookmakers!