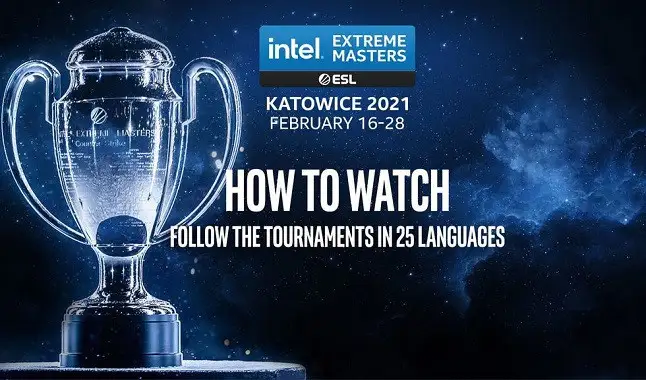 Check the teams, awards, dates and schedule of the official Counter-Strike: Global Offensive competition, IEM Katowice 2021.
This last Tuesday (16), the official
Counter-Strike: Global Offensive championship
,
IEM Katowice 2021
began. Comprising several international teams,
IEM Katowice 2021
projected a prize pool of US $ 1 million. In addition, the tournament is scheduled to end on February 28. Since there are 24 teams in the dispute, we at
Betting Academy
decided to bring the full schedule of
IEM Katowice 2021
, with schedules, teams and prizes in play.
Teams present at IEM Katowice 2021 and their rosters
"BRASIL - FURIA: Yuri "yuurih", Andrei "arT", Vinicius "VINI", Kaike "KSCERATO", Paytyn "Junior" and Lucas "honda".
DENMARK- Heroic: Martin "stavn", Johannes "b0RUP", Casper "cadiaN", René "TeSeS" and Nikolaj "niko".
FRANCE - Team Vitality: Cédric "RpK", Mathieu "ZywOo", Richard "shox", Kévin "misutaaa" and Nabil "Nivera".
DENMARK - Astralis: Nicolai "device", Peter "dupreeh", Andreas "Xyp9x", Lukas "gla1ve", Emil "Magisk" and Lucas "Bubzkji".
RUSSIA - Natus Vincere: Egor "flamie", Oleksandr "s1mple", Denis "electronic", Kirill "Boombl4", Ilya "Perfecto" and Valerii "B1T".
EUROPE - G2: Kenny "kennyS", François "AmaNEk", Nemanja "nexa", Nikola "NiKo" and Nemanja "huNter-".
EUROEA - FaZe Clan: Håvard "rain", Marcelo "coldzera", Helvijs "broky", Russel "Twistzz" and Finn "karrigan".
USA - Evil Geniuses: Vincent "Brehze", Tsvetelin "CeRq", Ethan "Ethan", Tarik "tarik" and Peter "stanislaw".
EUROPE - Complexity Gaming: Benjamin "blameF", William "RUSH", Kristian "k0nfig", Valentin "poizon" and Justin "jks".
SWEDEN - fnatic: Freddy "KRIMZ", Jesper "JW", Ludvig "Brollan", Maikil "Golden" and Jack "Jackinho".
EUROPE - OG: Nathan "NBK-", Aleksi "Aleksib", Valdemar "valde", Issa "ISSAA" and Mateusz "mantuu".
SWEDEN - Ninjas in Pyjamas: Fredrik "REZ", Nicolas "Plopski", Erik "ztr", Tim "nawwk" and Hampus "hampus".
USA - Team Liquid: Gabriel "FalleN", Jonathan "EliGE", Jacky "Stewie2K", Michael "Grim" and Keith "NAF".
BRAZIL - Team oNe: Pedro "Maluk3", Matheus "prt", Matheus "pesadelo", Mario "malbsMd" and Felipe "skullz".
BRAZIL - MIBR: Marcelo "chelo", Gustavo "yel", Bruno "shz", Ricardo "boltz" and Daniel "danoco".
AUSTRALIA - Renegades: Liam "malta", Simon "Sico", Joshua "INS", Jordan "Hatz" and Alistair "aliStair".
GERMANY - BIG: Johannes "tabseN", Tizian "tiziaN", Ismailcan "XANTARES", Florian "syrsoN" and Nils "k1to".
EUROPE - mousesports: Robin "ropz", David "frozen", Aurimas "Bymas", Frederik "acoR" and Christopher "dexter".
EUROPE - Virtus.pro: Timur "buster", Alexey "qikert", Dzhami "Jame", Sanjar "SANJI" and Mareks "YEKINDAR".
RUSSIA - Gambit Esports: Vladislav "nafany", Dmitry "sh1ro", Timofey "interz", Sergey "Ax1Le" and Abay "Hobbit".
EUROPE - Cloud9: Alex "ALEX", William "mezii", Patrick "es3tag", Erick "Xeppaa" and Ricky "floppy".
RUSSIA - Team Spirit: Victor "somedieyoung", Leonid "chopper", Nikolay "mir", Boris "magixx" and Abdulkhalik "degster".
SPAIN - Movistar Riders: Lucas "steel", Alejandro "mopoz", Alejandro "ALEX", Kristjan "shokz" and Owen "smooya".
POLAND - Wisla Kraków: Grzegorz "SZPERO", Olek "hades", Grzegorz "jedqr", Patryk "ponczek" and Krzysztof "Goofy"".
Clash format
In the entry phase, which started on the 16th, the clashes will be held in the double elimination format. After that, the following rounds will be made in
MD3
format, where eight teams will advance to the group stage.
In the group stage, all duels will be played in
MD3
and will feature double elimination. After that, the top three teams from their respective groups will go into the
playoffs
.
Finally, in the
playoffs
the eliminations will be unique. Meanwhile, the quarterfinals and semifinals will continue on Bo3, and the grand finale on Bo5.
Awards
"1st US$ 400,000
2nd US$ 180,000
3-4th US$ 80,000
5-6th US$ 40,000
7-8th US$ 24,000
9-12th US$ 16,000
13-16th US$ 10,000
17-20th US$ 4,500
21-24th US$ 2,500

IEM Katowice 2021 Dates
Play-In

"Fabruary 16th
BIG x Movistar Riders
Team Spirit x Cloud9
Gambit x Team oNe
Renegades x mousesports
Virtus.pro x Wisła Kraków
Ninjas in Pyjamas x Complexity
OG x Fnatic
Team Liquid x MIBR

1st round of loser bracket

2nd round loser bracket

Fabruary 17th
1st round of loser bracket
1st round of loser bracket
2nd round of loser bracket
2nd round of loser bracket
2nd round of tloser bracket
2nd round of loser bracket"

Group Phase

"Fabruary 18th
Played in x Evil Geniuses
G2 x Play-in qualified team
Astralis x Play-in qualified team
Play-in x Heroic
Team Vitality x Play-in qualified team
Play-in qualified team x FaZe Clan

Fabruary 19th
FURIA x Play-in qualified team
Play-in qualified team x Natus Vincere

Quarter-finals of the loser bracket (Group A)
Astralis winner x Play-in qualified team vs Play-in qualified team x Evil Geniuses

Quarter-finals of the loser bracket (Group A)
G2 winner x Play-in qualified team vs Play-in qualified team x Heroic

Fabruary 20th
Quarter-finals of the loser bracket (Group B)
Quarter-finals of the loser bracket (Group B)

Loser bracket semifinal (Group A)
Team Vitality Winner x Play-in Qualified Team vs Play-in Classified Winner x FaZe Clan

FURIA winner x Play-in qualified team vs Play-in qualified team x Natus Vincere

Fabruary 21th
Loser bracket semifinal (Group B)
Loser Bracket semifinal (Group B)

Final (Group A)
Final of the loser bracket (Group A)
Final (Group B)
Final of the loser bracket (Group B) "

Playoffs

"Fabruary 26th
Quarter-finals 1
Quarter-finals 2

Fabruary 27th
Semifinal 1
Semifinal 2 "

Final

"Fabruary 28th
Final"