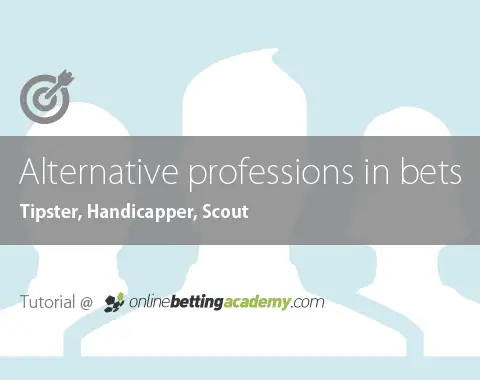 There are differences between handicappers and tipsters, and there are certainly differences between these and scouts. They are professionals with similar skill sets, but the subtle distinctions make a big difference.
TIPSTER
Almost everybody in the Sports Betting world knows what a tipster does. He is a professional who sells tips to bet on sport events, but who also uses his knowledge of the fair lines, studies the market and creates the lines. This is a profession that has become common with the popularization of sports betting. When you think of tipsters the first thing that may come to your mind is someone trying to sell picks on Facebook, o which is clear evidence of how vulgar some have become with the popularization of Sports Betting.
But anyway this is a professional that:
studies the market,
creates fair lines,
applies his knowledge of fair lines to place bets,
sells picks
registers his stats online.
HANDICAPPER
There is professional who is similar to a Tipster, but because of my background in horse racing I tend to think of Handicappers as something more, since these are similar professionals, but handicappers are gamblers in a way, placing their bets, defining fair lines and investing on them, maybe using their feeling more than mathematical stats. But both of these professionals may work for websites, writing previews and selling tips in international sites and forums or even working directly with investors, selling value picks.
SCOUT
Apart from tipsters and handicappers there are also scouts, professionals that many may have come across in a football stadium or a gymnasium. This is a professional who monitors a sporting event and sends updated information through some electronic device to someone on the other side of the line: a bookmaker, an investor, a broker or even a trader. Scouts are fundamental in Sports Betting. Some are good tipsters and keep an eye on the event and the other on the odds, looking for value bets. Some work for bookmakers and others are on our side, the bettors. They usually work in the shadows, but there are scouts who work in a different way.
I would like to share with you my personal experience to confirm the need for such professionals. I live in Brazil and bet on horse races in Great Britain. No matter how well I create the fair lines based on the data from the hippodrome, the animals, the trainers, the jockeys, etc., there are always factors one doesn't get from these numbers, such as how deep the horse shoe buries in the pitch. In GB, as well as in Brazil, there is an information system that lets you know the conditions of the track, but these conditions may change suddenly due to weather conditions, for example, so early betting is risky. Therefore, to have someone at the location who can give us valuable information about the pitch, for example, is very useful. It's also important to know which animal travelled the longest distance, if there are signs of stress, if there are any rumours about injuries, etc. Horses are as complex as humans, since they are athletes that live stressful lives, training and competing intensely. To have someone, like a trainer, that can give such information is of great value. One scout at each race track is a good number. It's not as expensive as one may think and the information we get is priceless.
Scouts are very important, even in football. All top punters have scouts, either professionals paid by them or friends with access to such information. There are news that aren't readily available on the internet or in the media, only does at the location of the event can provide such information in a fast and reliable way. Imagine a squad going through a crisis and set on sacking a coach. Through conventional methods you would only find out about this too late. It's important to keep up to date regarding news related with the event, but getting information beforehand is what may give you an edge over bookmakers.
At this point you may be wondering if you'll need to get a scout and how much it's going to cost you. But rest assured, because it may cost you nothing. For example, I watched a training of my favourite club recently, so I have a good idea of the starting eleven for the next match. If someone I know asks me I'll tell them about the moral of the players, how I expect the team to play, etc. Asking me about this would therefore cost nothing. Next time I could get similar information from them, so it's important to establish such connections... and it's free! I can't stress enough the importance of knowing conditions of the pitch, the strategies the coaches are likely to use, the form moment of the players, particularly does who usually sit in the bench and most people don't get the chance to see in action. By establishing a network of contacts made up of fans, coaches, journalists, or anyone with access to important information you'll be able to have an advantage over bookmakers and other bettors. Obviously it's not always possible to get such information for free, but even if you have to pay it is certainly worth it, because such privileged information pays for itself!
BROKER
Another important distinction in the list of Sport Betting professions is a Broker. This is a professional that specializes in creating fair lines, usually in a particularly league or competition, using his knowledge to work for groups of investors, based on the lines they projected. To do that they use dedicated software and Asian bookmakers, all paid for by the investors. To reach this level is reaching the top. To get here it's not enough to be good at what you do, you need to be the best. You also need to make a name for yourself, to get someone from within these groups to recruit you, which isn't easy, because they don't know or don't follow internet forums: remember we're talking about millionaires. Maybe reaching such level is the goal of all tipsters, but it takes a lot of hard work and dedication and when you finally get there you'll only find that it's even harder to stay on top. Believe me, a good broker has no social live.
What's common to all these professionals is that they win a lot of money in Sports Betting without even spending a cent of their own, which is obviously very attractive for many people and explains why so many rookies keep trying to get into Sports Betting. These days it's easier to enter the market, since there is a lot of information available about the basics and there are tipster tournaments like the ones of online betting academy that allow you to test your skills and win money prizes without risking a cent of your own.
I hope you've liked this article about the Sports Betting professions.

Hugs and good profits guys!